Got Mud Puddles? We have the filler!
Check out our complete filler line:
BARK
COMPOST
SOIL
ROCK
Fir
Hemlock
Hog Fuel
Playground Chips
Sawdust
Organic –

Blend of 4 Composts


Overtures
Steer
Tack Box
Mint
Potting Soil
Gardener's Choice Soil Mix
#1 Loam
Fill Dirt
Sand
1/4″ Round
1/2″ Round
3/4″ Round
1 1/2 Round
Oversize
3/8″ Crushed
3/4″ Crushed
3/4 – 1/2″ Cinder
Pumice
Full Line of Landscaping Products

Ornamental Trees and Shrubs
Shade Trees
Perennials, Annuals & Veggies
Lava Rock
Weed Barrier Cloth
Hand Tools
Fertilizers & Amendments

Our ROUNDED scoops ensure you get a full measure.
You Haul or We Deliver
We deliver to the greater Albany area with a two yard minimum.
Additional fuel charges apply for deliveries over 10 miles from our nursery.
Call for current delivery rates.
541-928-3448
Save $5.00 on any product or service totaling more than $50.00.
Print this coupon and bring it into our store.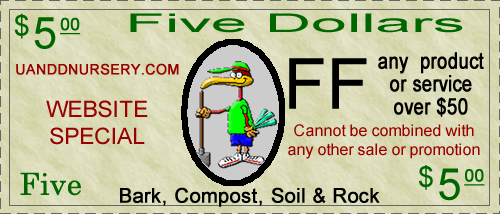 Coupon must be presented prior to checkout.