We have what you need for all of your landscaping projects.

Landscaping Services

Backflow Tests
New lawn installation
Irrigation installation and repair
Installation of new flower or garden beds
Have your own dry river bed
Spring clean up & Winter preparation

1. Trimming
2. Weeding
3. Add bark dust or rock
4. Fertilizing
5. Planting plants
6. Irrigation start ups or shut down

Full Line of Landscaping Materials

Ornamental Trees and Shrubs
Annuals, Perennials & Veggies
Weed Barrier Cloth
Hemlock & Fir Bark
Crushed & Round Rock
Lava Rock
Sand & Loam
Mint & Mushroom compost
Fertilizers & Amendments

Call us to schedule a landscape consultation.

541-928-3448

Choosey gardeners choose

GARDENERS' CHOICE
Save $5.00 on any product or service totaling more than $50.00.
Print this coupon and bring it into our store.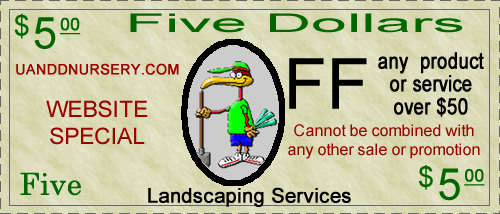 Coupon must be presented prior to checkout.